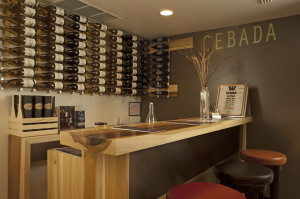 Cebada Vineyard is a working farm that grows and vinifies estate grown Pinot Noir and Chardonnay located west of Sta. Rita Hills just 12 miles from the Pacific Ocean. Our boutique winery produces sophisticated Burgundian style wines. Our wines are low in alcohol and balanced, making them the perfect food wines. We only make one Pinot Noir and one Chardonnay each year from our vineyard. All of our clones are blended together creating great flavor profiles. These hand crafted wines are made on the farm and available in our farm store or our downtown Santa Barbara tasting room.
We offer vertical tastings or by the glass of our Pinot Noir and Chardonnay. Included in the tasting is our Estate Blueberry Dessert wine. Pair them with any of the gourmet items in the store. We aim to give you a unique experience not found anywhere else in Santa Barbara.
Our tasting room is located at 5 E Figueroa St. in La Arcada Court, inside Isabella Gourmet Foods. We are minutes from major public attractions, including the Courthouse and Sunken Gardens, Art Museum, Granada and Arlington Theaters, and Public Library. There is plenty of local parking and great shopping and restaurants. This is a must stop on the Urban Wine Trail.