Cebada Wine invites you to join us at our FIRST EVER 5 course Winemaker Dinner on Saturday, November 7th, 2015 at the vineyard!
Come to the farm at 3:30pm and start your afternoon with a Farm Tour that brings you through all of Sandy Newman's vines, blueberries, mulberries and the many other wonders that are grown on the grounds. The "cocktail hour" will begin at 4:30pm and will highlight fresh squeezed citrus juices from the various citrus grown on the farm, our 2014 Rose of Pinot Noir, cheese and charcuterie, and fresh picked seasonal fruits. Dinner will be served at 5:30pm. Menu prepared by the lovely Chef Sally Ruhl, a former apprentice of Julia Child!
Pricing: $75+tax for wine club members and $85+tax for the public. SPACE IS LIMITED AND FILLING UP FAST!
Call the tasting room at (805) 451-2570 or email geena@cebadawine.com to reserve your spot.
For more information, CLICK HERE
First Course
Wine: 2014 Rose of Pinot Noir
Fresh squeezed juices from farm citrus trees, fresh fruit and nuts, selection of cheese and charcuterie. (From the Farm- Lemon, Orange, Lime, Walnuts, figs, apples, blueberries, pomegranate)
Second Course
Wine: 2012 Chardonnay
Baby gems salad with walnuts and shredded Manchego cheese with an olive oil drizzle (From the Farm- Walnuts, olive oil)
Third Course
Wine: 2013 Chardonnay
Warm butternut squash soup with a thyme crème fresh swirl and a grilled crouton on the side
Fourth Course
Wine: 2011 and 2012 Pinot Noir (side by side)
Seared Muscovy Duck Breast* atop a seasonal vegetable ragout and mushroom medley (From the Farm- seasonal vegetables, olive oil)
*vegetarian option available
Fifth Course
Wine: Blueberry Dessert Wine Cordial
Blueberry tart with a blueberry syrup drizzle (From the farm- blueberries, blueberry syrup, blueberry sorbet)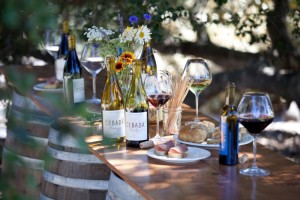 Coffee and green tea (from the farm) served after dessert