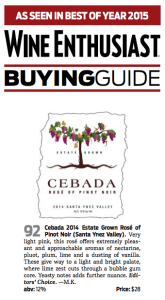 Cebada Wine is proud to announce that our 2014 Rose of Pinot Noir has been chosen as Editor's Choice by Wine Enthusiast Magazine and scored a 92 which is the highest score for any Rose in the Santa Barbara County! You can find this Rose and our other scored wines on Wine Enthusiast's Buying Guide and in the upcoming Best Of Year 2015 issue.
Cebada Wine invites you to join us at our FIRST EVER 5 course Winemaker Dinner on Saturday, November 7th, 2015 at the vineyard!
Come to the farm at 3:30pm and start your afternoon with a Farm Tour that brings you through all of Sandy Newman's vines, blueberries, mulberries and the many other wonders that are grown on the grounds. The "cocktail hour" will begin at 4:30pm and will highlight fresh squeezed citrus juices from the various citrus grown on the farm, our 2014 Rose of Pinot Noir, cheese and charcuterie, and fresh picked seasonal fruits. Dinner will be served at 5:30pm. Menu prepared by the lovely Chef Sally Ruhl, a former apprentice of Julia Child!
Pricing: $75+tax for wine club members and $85+tax for the public. SPACE IS LIMITED AND FILLING UP FAST!
Call the tasting room at (805) 451-2570 or email geena@cebadawine.com to reserve your spot.
For more information, CLICK HERE
First Course
Wine: 2014 Rose of Pinot Noir
Fresh squeezed juices from farm citrus trees, fresh fruit and nuts, selection of cheese and charcuterie. (From the Farm- Lemon, Orange, Lime, Walnuts, figs, apples, blueberries, pomegranate)
Second Course
Wine: 2012 Chardonnay
Baby gems salad with walnuts and shredded Manchego cheese with an olive oil drizzle (From the Farm- Walnuts, olive oil)
Third Course
Wine: 2013 Chardonnay
Warm butternut squash soup with a thyme crème fresh swirl and a grilled crouton on the side
Fourth Course
Wine: 2011 and 2012 Pinot Noir (side by side)
Seared Muscovy Duck Breast* atop a seasonal vegetable ragout and mushroom medley (From the Farm- seasonal vegetables, olive oil)
*vegetarian option available
Fifth Course
Wine: Blueberry Dessert Wine Cordial
Blueberry tart with a blueberry syrup drizzle (From the farm- blueberries, blueberry syrup, blueberry sorbet)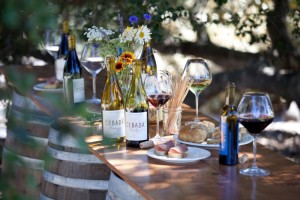 Coffee and green tea (from the farm) served after dessert
WineEnthusiast just scored our 2014 Rosé of Pinot Noir a 92 and awarded us 2015's Editor's Choice!!! Fun fact about Rose: the highest any rose has ever been scored is a 93 and our Rose is the highest scored in all of Santa Barbara County EVER!!! Look for this wine in the December "Best of Year" issue. Thank you Matt Kettmann for the biggest compliment we could have ever received!
If you want to check out Matt's Article about Sandy follow the link below
http://m.independent.com/…/…/pushing-horticultural-envelope/
Wine Enthusiast
Our 2014 Rose of Pinot Noir was just awarded Editor's Choice and scored a 92 by Wine Enthusiast's Matt Kettmann which is the highest he has ever scored a Rose EVER in Santa Barbara County! Get your Rose fast because we only made 73 cases and once the Best Of Year 2015 issue is released they will go FAST!
July 8, 2015
Pierre Dumont ranked Cebada Wine's 2012 Pinot Noir amongst the top out of 100+ vintners in this year's Pinot Noir Report from the Piedmont Post.  Sandy showcased at the 2015 Pinot Days in San Francisco last month.
(See article attached below)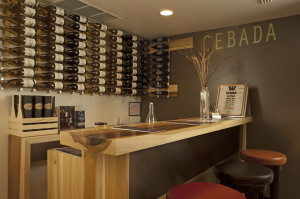 Cebada Vineyard is a working farm that grows and vinifies estate grown Pinot Noir and Chardonnay located west of Sta. Rita Hills just 12 miles from the Pacific Ocean. Our boutique winery produces sophisticated Burgundian style wines. Our wines are low in alcohol and balanced, making them the perfect food wines. We only make one Pinot Noir and one Chardonnay each year from our vineyard. All of our clones are blended together creating great flavor profiles. These hand crafted wines are made on the farm and available in our farm store or our downtown Santa Barbara tasting room.
We offer vertical tastings or by the glass of our Pinot Noir and Chardonnay. Included in the tasting is our Estate Blueberry Dessert wine. Pair them with any of the gourmet items in the store. We aim to give you a unique experience not found anywhere else in Santa Barbara.
Our tasting room is located at 5 E Figueroa St. in La Arcada Court, inside Isabella Gourmet Foods. We are minutes from major public attractions, including the Courthouse and Sunken Gardens, Art Museum, Granada and Arlington Theaters, and Public Library. There is plenty of local parking and great shopping and restaurants. This is a must stop on the Urban Wine Trail.
Come visit me and taste our wines at the Mar Vista Farmers Market this Sunday, it's free!! Wines will be 20% off. As usual, we will be selling our blueberries at all the markets.
This is my biggest fan, she just can't get enough so she helps her self.  First stop is the blueberry field. From there, I head over to the apple orchard or maybe it is avocado time. Foraging at Forbidden Fruit Orchards.
All the Pinot Noir and Chardonnay is harvested and in the winery!  The fruit this year has great flavors and is very advanced.  I was able to pick at very low brixs with good acid levels and developed flavors.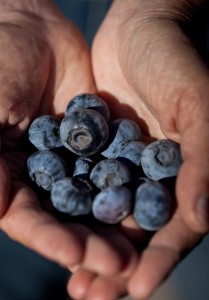 Even more good news, we will be back at ALL the farmers markets this Saturday and Sunday. Hollywood, Mar Vista, Beverly Hills, Brentwood, Calabasas, Studio City, Venice and both Santa Monica markets. The blueberries are big and beautiful.
It is going to be an early harvest in the vineyard this year. My guess is early August. Time is flying and so much to do!!!